Mr. Hiroshi Matsuyama (CyberConnect2 Co., Ltd., President/CEO)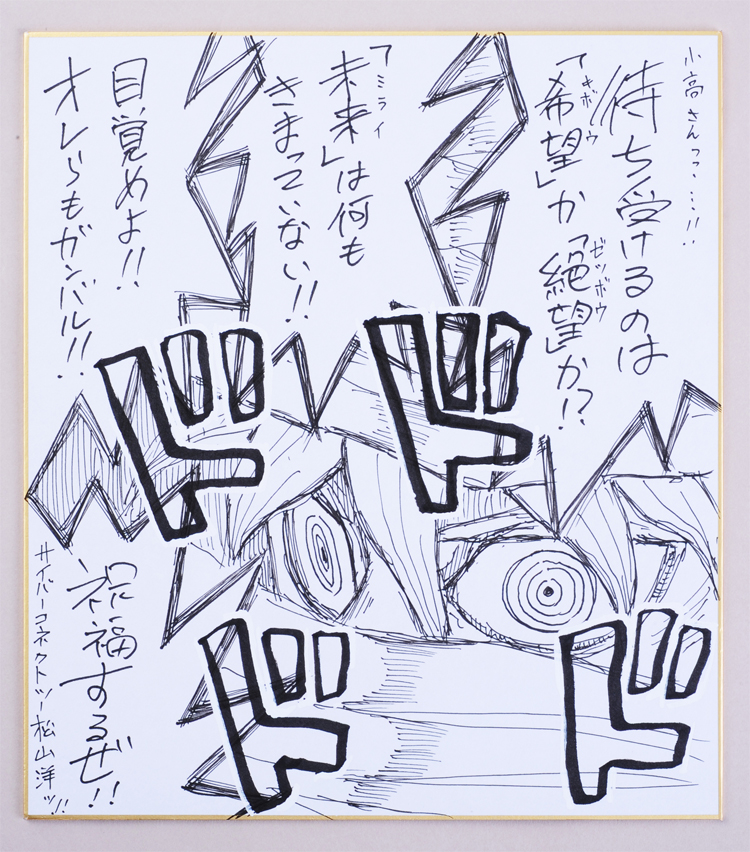 Mr. YOKO TARO (BUKKORO Inc., President)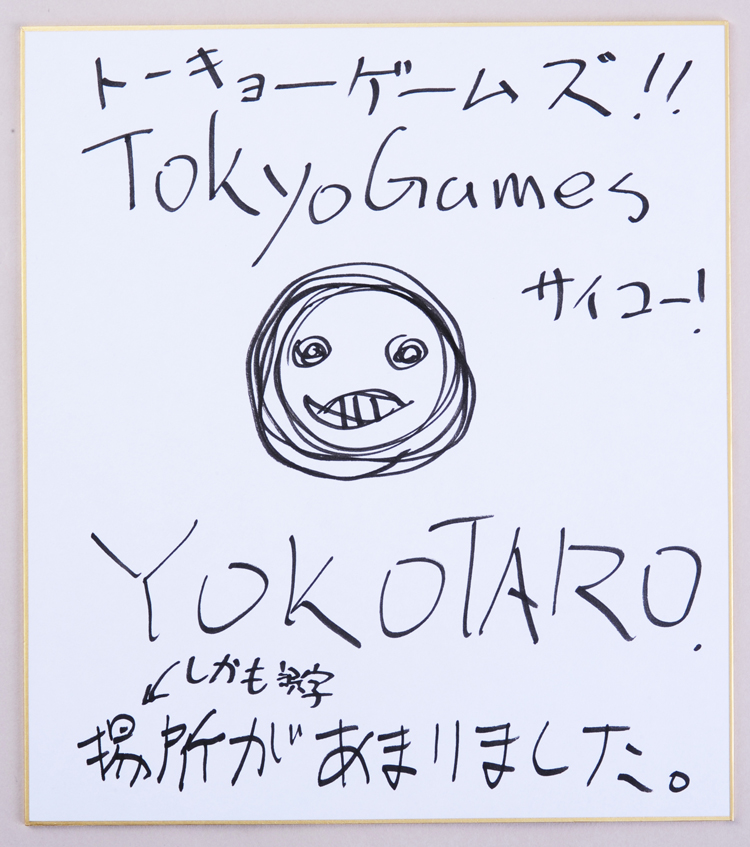 All the Danganronpa team at Spike Chunsoft Co., Ltd.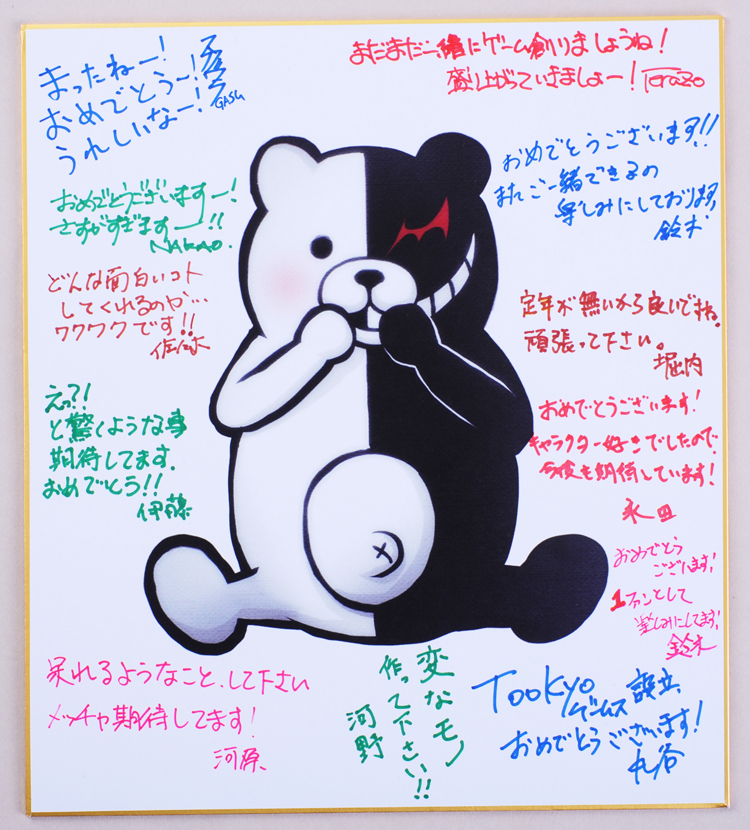 Mr. Keiichiro Toyama (Sony Interactive Entertainment LLC)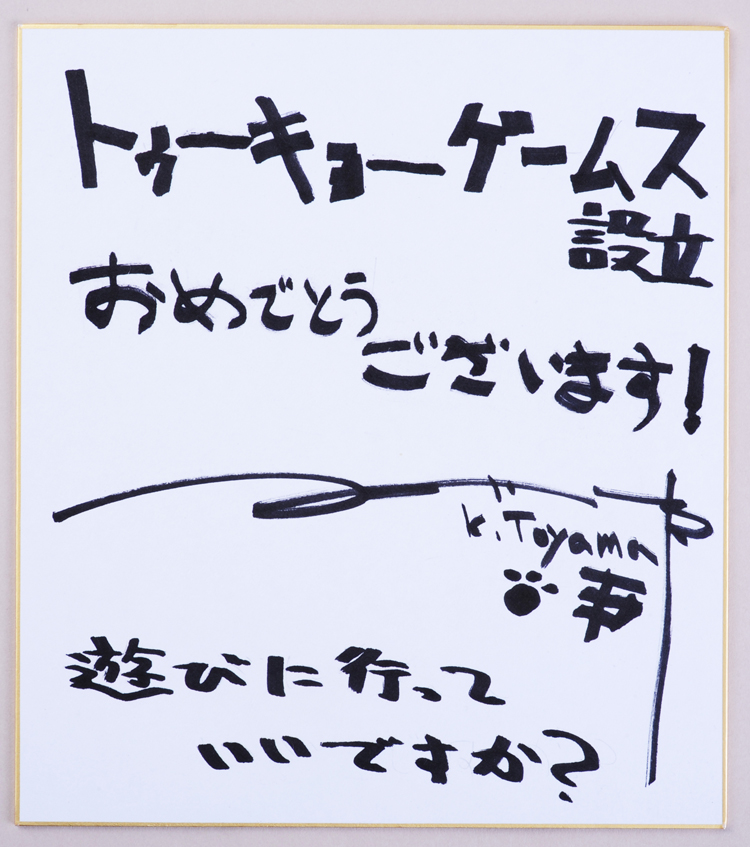 Mr. Katsura Hashino (Atlus Co., Ltd., Video game director/Producer )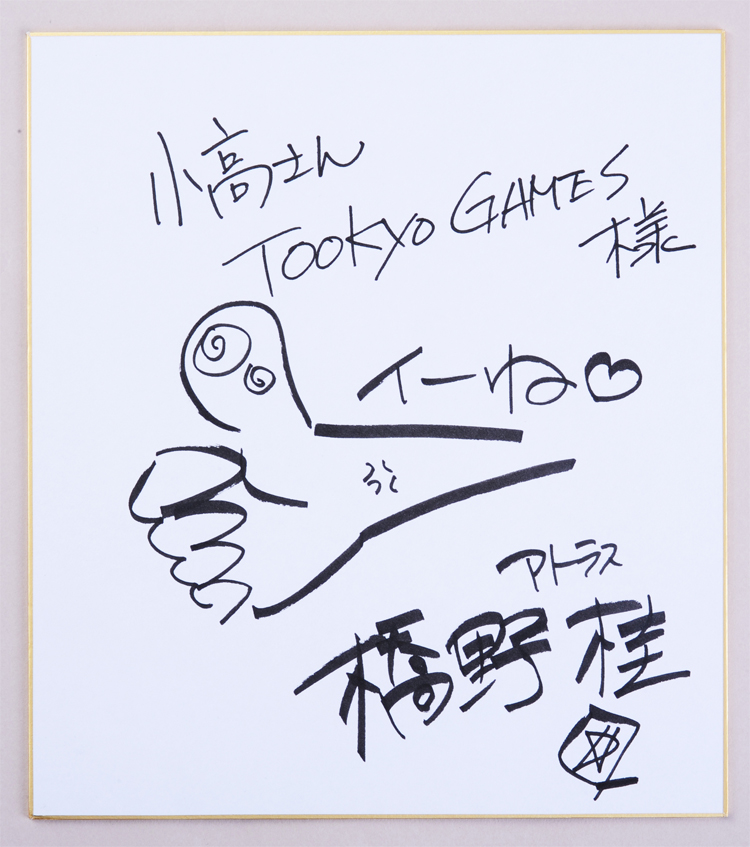 Yosuke Saito (SQUARE ENIX CO., LTD., Director)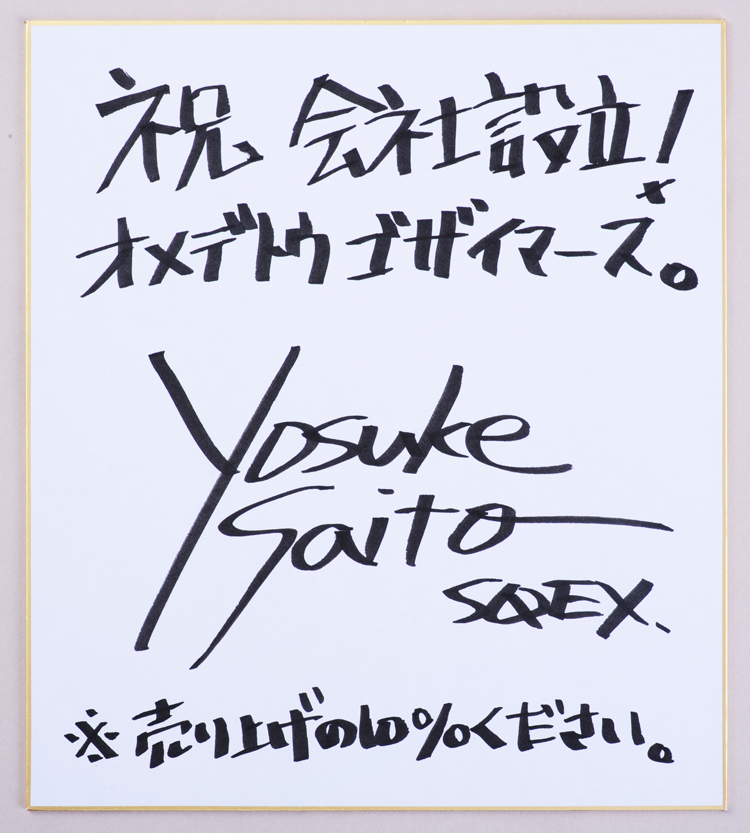 Mr. Mitsutoshi Sakurai (Spike Chunsoft Co., Ltd., President & CEO)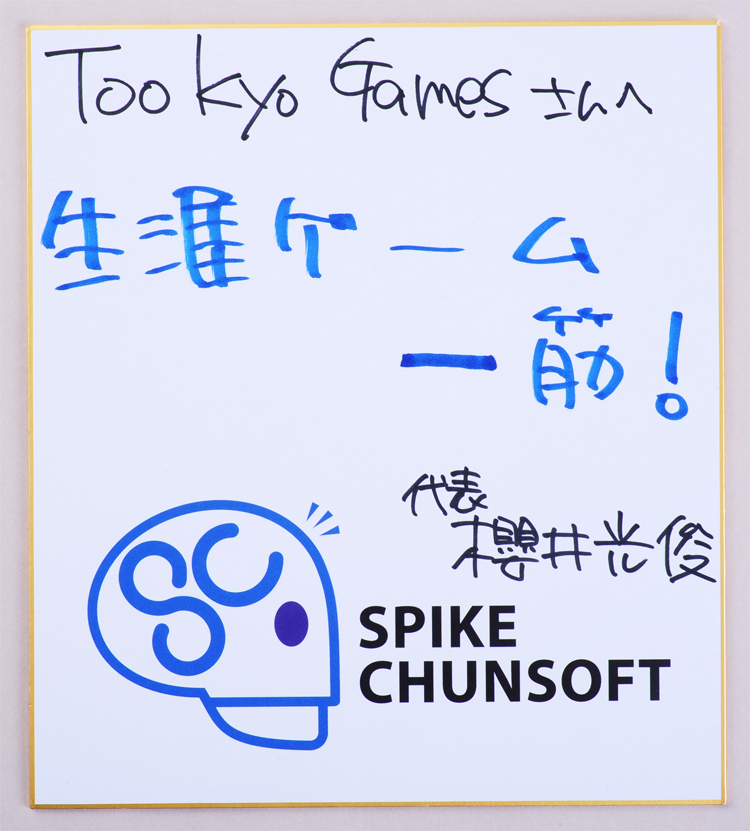 Mr. Suda51 (GRASSHOPPER MANUFACTURE INC., Managing Director)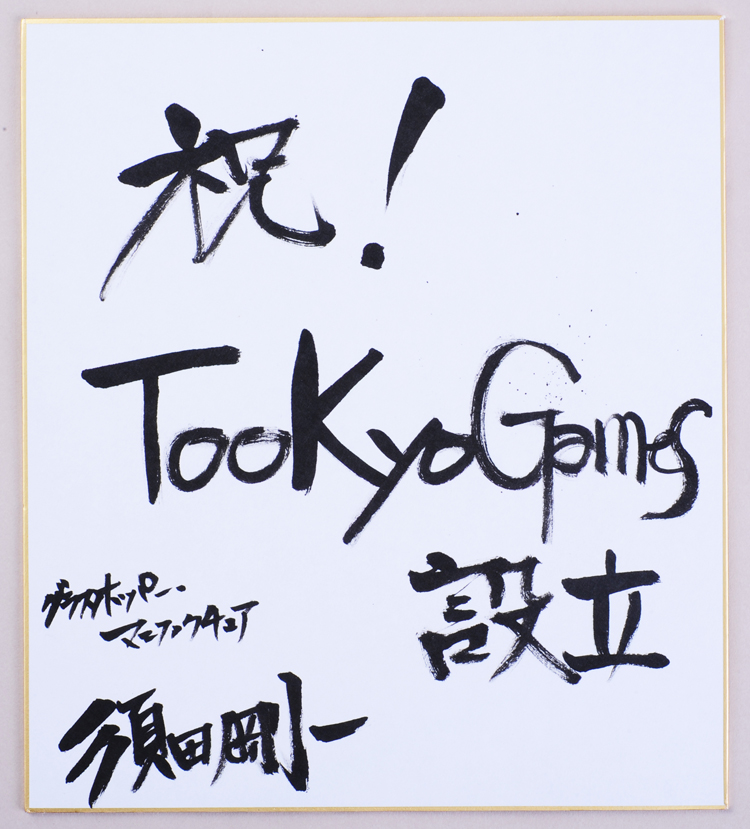 Yasumi Matsuno (Algebra Factory Inc., President/Game Designer)

Congratulation on establishing your new company, Too Kyo Games!
Mr. Kodaka has creative talent like none other, as he has displayed through the multitude of hit games he has created as represented by the Danganronpa games.
With Mr. Kodaka expanding his area of activity to not only games, but also novels and anime, I can't help but watch Mr. Kodaka in anticipation, both as a peer in the game industry, and as a fan!
What does he have up his sleeve this time?
Really, I'm so excited!
In any case, congratulations!
I look forward to your continued success.
Mr. Shinji Mikami (Tango Gameworks, Executive Producer)

Congratulations on the establishment of Too Kyo Games.
Working with Mr. Takada on God Hand remains as a good memory.
I look forward to seeing this new studio giving birth to new exciting games and contents.
Shirow Miwa (Manga Artist, Illustrator)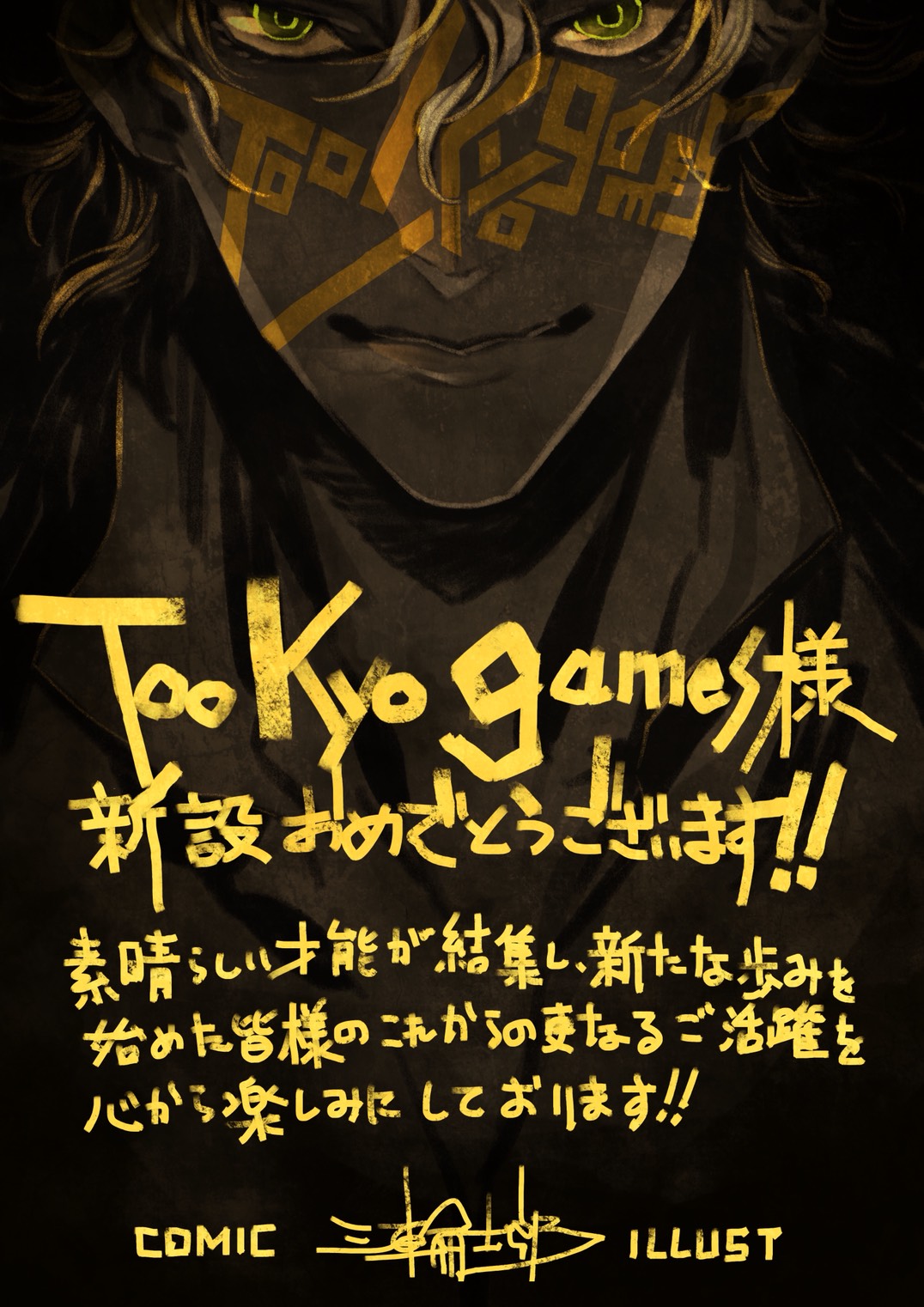 Congratulations on establishing your new company!
With the amazing talent that have gathered for this company, I can't wait to hear about your outstanding performance!
Ms. Yooko Nihonbashi (Manga Artist, Shoujo Fight serialized in Koudansha Evening)

In my mind, the value of entertainment should be measured by what the player receives, not by what the creators gain.
It is truly a joy for me to know that I can once again get my fix of contents that stirs the human primal instincts through playing with destruction and creation, all while never compromising for nothing.
As a gamer that was saved by titles created by Mr. Komatsuzaki and Mr. Kodaka, it is truly a pleasure to celebrate the establishment of Too Kyo Games.
Mr. Akihiro Hino (Level-5 Inc., CEO)

Congratulations on the establishment of your new company!
The scenario by Mr. Kodaka and Mr. Uchikoshi, music by Mr. Takada, and art by Mr. Komatsuzaki…I look forward to seeing the top quality games created by these top quality creators.
Since I am the scenario writer for the Layton series, I would love to talk about crime and mysteries, so it would be a pleasure to sit down and have drinks.
The best of wishes for Too Kyo Games.
Mr. Jun Matsunaga (Sega Interactive Co., Ltd., Chief Director)

Congratulations on establishing your new company!
I was thrilled to hear the news, this makes the games industry more interesting than it already is.
I cannot wait to see the type of games will be announced.
I can already see myself saying ""I see!?,"" ""You got me!!,"" or ""What!?"" in response to the surprises this team constantly delivers to the world.
Mr. Masahiro Sakurai (Sora Ltd., President)

Congratulations on establishing Too Kyo Games!!
I have worked with Mr. Takada on Smash Brothers, and I've always enjoy the games created by Mr. Kodaka's team.
Looking back on the games that each of these people have created, there is no doubt in my mind that this group will create something extraordinary.
There may be moments of pressure until this group announce their new title, but then again, I am sure this group will overcome anything with their easygoing spirit.

Good luck, I can't wait to see your new game!!
Mr. Chiyomaru Shikura (DWANGO Co., Ltd., Board Director; MAGES Inc., Executive Chairman; Chiyomaru Studio Inc., CEO)

"What were you thinking? Open those eyes and take a good look at what is around. There are so many people in this vast universe with entertaining ideas, yet you still think you are special and unique. If there's any hope, it's in the possibility that you may possibly create a end up creating an interestingly eccentric piece that only a misguided fool like you would come up with." With those wry words, Chiyomaru Shikura praised their resolve. This is the beginning of their success story--Congratulations on establishing your new company!
Mr. Ryohgo Narita (Writer)

Congratulations on establishing Too Kyo Games LLC!
As a gamer, I am the type that likes to play ""innovative games that no one has ever seen before"" on certain days, and on other days I like to play ""the golden-oldie, classic games."" In essence, you could say I am quite the self-centered gamer.
After hearing about the amazing talent that have gathered to create this new studio, there was no room in my mind to make selfish remarks. I was genuinely thrilled to imagine the innovative games this group would create.
In my mind, the thrill I am feeling feels like the prologue to their new game. It is my sincere hope that this feeling is not an illusion, and I wish the best of luck for this amazing group.
Mr. Jiro Ishii (Story Telling Inc., CEO)

What!? Kazutaka Kodaka, Rui Komatsuzaki, Masafumi Takada from Danganronpa, Kotaro Uchikoshi and Takumi Nakazawa from Ever17 are all getting together to establish their own company?
I gotta crush these guys. Before they dominate the world of games and anime.
Mr. Yojiro Ogawa (LIONSHIP STUDIO)

Wooooooooooooow!
Congratulations.
This calls for a celebration!! Who's ready for some chicken dinner?
There is a saying that ""an entrepreneur is someone who will jump off a cliff and assemble an airplane on the way down."" I can only imagine the ups and downs, all the hardships that were overcome to get this far. I am completely confident that this group of amazing creators will soar the skies while assembling a crazy aircraft like no one has ever seen.
Mr. George Kamitani (VANILLAWARE Ltd., president and director)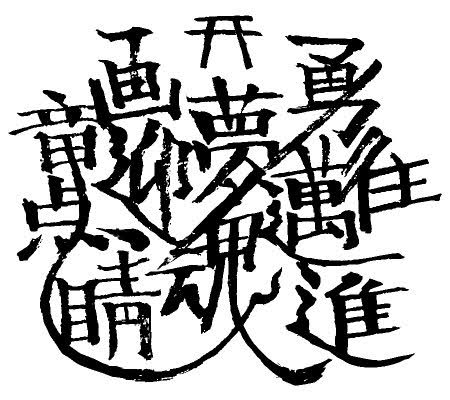 Mr. Kinoko Nasu (TYPE-MOON)

Finally. I've been waiting for this moment ever since Danganronpa V3.
I am a core gamer, especially for the games this group creates, but I am also a creator that is inspired by their work.
It goes without saying that this group of creators take pride in their unparalleled taste for mischief, and high level of expressiveness in the Japanese games scene.
Danganronpa was a game that perfected the ""death game"" theme.
Danganronpa 2 stared directly down the face of the negative emotions created in Danganronpa and displayed the notion of ""hope.""
The creators showed their conviction with Danganronpa V3 in the form of a response to gamers that enjoyed the ""death game"" in the previous franchise titles.
After every new installment, gamers of the franchise must have thought ""This game was so much fun. There's no way this game could get better,"" yet these guys have constantly gone over and beyond.
I am truly grateful to be able to experience the same impact again, and at the same time it is terrifying. It's truly an honor to have been born in the same era as these guys.
Congratulations on establishing Too Kyo Games. Now show us what you're really capable of doing.
Mr. Takashi Takeuchi (TYPE-MOON)

Congratulations on establishing your new brand, Too Kyo Games.
For me, the impact of Danganronpa, created with Mr. Kodaka, Mr. Komatsuzaki, and Mr. Takada as core members, has not faded.
First, I was caught unaware, second I was outsmarted, and third I was stunned.
I am sure I am not the only curious to find out what scheme these non-conformist creators have up their sleeve.
Regardless of the type of game they have in the planning, there is no doubt that their game will be considered an industry wide phenomenon.
I personally plan to wait for ""that day,"" in excitement and anxiety.
Mr. Gen Urobuchi (Scenario Writer)

I would like to contribute this message as one of the many gamers that were moved by Danganronpa V3.
In the first installment of the franchise, what made the game so epoch-making was the sense of immorality rooted in the excitement caused by the decadence of ""young geniuses with bright futures thrown into the dark abyss of death and despair."" However, as the title became a franchise, the epoch-making elements became a standard. In each installment, the young geniuses all routinely fall in despair, and accept their death. The surprise and excitement were a treasure found only in the first play. As this experience becomes predictable, it becomes a luxury good the player uses to relive this stimulation through the newly created neural network in the players' brain.
However, what lasting contents struggle with as an inevitable problematic structure, V3 employed as a trick. The cathartic buzz of a truth being raveled, or the awkwardness and chill of staring at a freak of nature were both emotions that made the players regress back to the original Danganronpa. The closing makes a full circle back to the origin, this was the beauty of this story.
Despair, the terrifying darkness of Monokuma was seen not only in the screen. This darkness also manifests itself in the hearts of the audience. The ending which presents the players with the fact that ""the audience has taken a seat to indulge in immorality"" is a theme that numerous forerunners have tried to illustrate. This has proven to be quite difficult. The player of V3 must have thought ""there is no way this story would go down that route,"" but the creators took the audience by surprise. The creators knew this would mean staking everything they had built, and yet chose this all-or-nothing strategy. Since I also make a living in the entertainment industry, this was truly a power play that made my blood run cold.
The creators could have chosen to continue to commodify the death and despair they had cultivated into a drug like stimulant. Yet, as tried and tested entertainers, they valued entertainment that explodes in a split second, like fireworks, rather than provide a persistent performance. To do this, these men created a bomb and completely destroyed the refinement and distribution system they had worked so hard to build with ease. For them, the spectators that let out a screech must have been part of ""the show.""
""That is a drug. Not some simple luxury good. Don't get addicted"" This is the type of firm sense of ethics they employed to give advice to the spectators. Because of this faith, the creators were able to determine what immorality truly is, and distill it into a poisonous liquor with a rich, addictive aroma.
A brand that is exquisite yet devilish, that can be counted on every single time has been born thanks to these guys becoming independent and making a name for themselves. All we can do now is hold our breath, and wait . For Too Kyo Games is sure to feeds us a surprise beyond our wildest dreams.